David Wright, from LibraryReads.org, recommended his top favorite books about books...and librarians.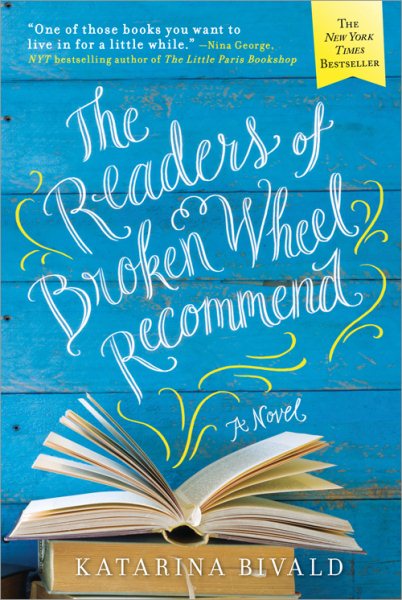 Katarina Bivald's The Readers of Broken Wheel Recommend
Broken Wheel, Iowa, has never seen anyone like Sara, who traveled all the way from Sweden just to meet her pen pal, Amy. When she arrives, however, she finds that Amy's funeral has just ended. Luckily, the townspeople are happy to look after their bewildered tourist--even if they don't understand her peculiar need for books. Marooned in a farm town that's almost beyond repair, Sara starts a bookstore in honor of her friend's memory. All she wants is to share the books she loves with the citizens of Broken Wheel and to convince them that reading is one of the great joys of life. But she makes some unconventional choices that could force a lot of secrets into the open and change things for everyone in town. Reminiscent of The Guernsey Literary and Potato Peel Pie Society, this is a warm, witty book about friendship, stories, and love.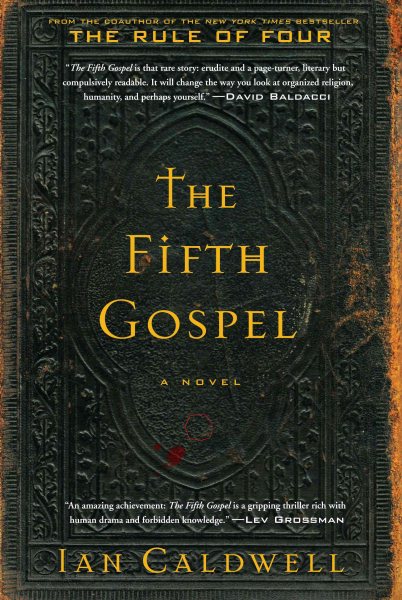 Ian Caldwell's The Fifth Gospel
**
Available in Large Print
**
A lost gospel, a contentious relic, and a dying pope's final wish converge to send two brothers--both Vatican priests--on an intellectual quest to untangle Christianity's greatest historical mystery.
Elisabeth Egan's A Window Opens
From the beloved books editor at Glamour magazine comes a heartfelt and painfully funny debut about what happens when a wife and mother of three leaps at the chance to fulfill her professional destiny--only to learn every opportunity comes at a price. In A Window Opens, Elisabeth Egan brings us Alice Pearse, a compulsively honest, longing-to-have-it-all, sandwich generation heroine for our social-media-obsessed, lean in (or opt out) age. Like her fictional forebears Kate Reddy and Bridget Jones, Alice plays many roles (which she never refers to as "wearing many hats" and wishes you wouldn't, either). She is a mostly-happily married mother of three, an attentive daughter, an ambivalent dog-owner, a part-time editor, a loyal neighbor, and a Zen commuter. She is not: a cook, a craftswoman, a decorator, an active PTA member, a natural caretaker, or the breadwinner. But when her husband makes a radical career change, Alice is ready to lean in--and she knows exactly how lucky she is to land a job at Scroll, a hip young start-up which promises to be the future of reading, with its chain of chic literary lounges and dedication to beloved classics. The Holy Grail of working mothers--an intellectually satisfying job and a happy personal life--seems suddenly within reach. Despite the disapproval of her best friend, who owns the local bookstore, Alice is proud of her new "balancing act" (which is more like a three-ring circus) until her dad gets sick, her marriage flounders, her babysitter gets fed up, her kids start to grow up, and her work takes an unexpected turn. Fans of I Don't Know How She Does It, Where'd You Go Bernadette, and The Storied Life of A.J. Fikry will cheer as Alice realizes the question is not whether it's possible to have it all, but what does she--Alice Pearse--really want?
Nina George's A Little Paris Bookshop
There are books that are suitable for a million people, others for only a hundred. There are even remedies--I mean books--that were written for one person only...A book is both medic and medicine at once. It makes a diagnosis as well as offering therapy. Putting the right novels to the appropriate ailments: that's how I sell books." Monsieur Perdu calls himself a literary apothecary. From his floating bookstore in a barge on the Seine, he prescribes novels for the hardships of life. Using his intuitive feel for the exact book a reader needs, Perdu mends broken hearts and souls. The only person he can't seem to heal through literature is himself; he's still haunted by heartbreak after his great love disappeared. She left him with only a letter, which he has never opened. After Perdu is finally tempted to read the letter, he hauls anchor and departs on a mission to the south of France, hoping to make peace with his loss and discover the end of the story. Joined by a bestselling but blocked author and a lovelorn Italian chef, Perdu travels along the country's rivers, dispensing his wisdom and his books, showing that the literary world can take the human soul on a journey to heal itself. Internationally bestselling and filled with warmth and adventure, The Little Paris Bookshop is a love letter to books, meant for anyone who believes in the power of stories to shape people's lives.
Olivia Laing's A Trip to Echo Springs: On Writers and Drinking
Laing examines the link between creativity and alcohol through the work and lives of six of America's finest writers.
Jenn McKinlay's A Likely Story: A Library Lover's Mystery
Delivering books to the housebound residents of the Thumb Islands, just a short boat ride from the town of Briar Creek, library director Lindsey Norris has befriended two elderly brothers, Stewart and Peter Rosen. She enjoys visiting them in their treasure-filled, ramshackle Victorian on Star Island until she discovers that Peter has been killed and Stewart is missing. Now she's determined to solve a murder and find Stewart before he suffers his brother's fate.
Bradford Morrow's The Forgers
The rare book world is stunned when a reclusive collector, Adam Diehl, is found on the floor of his Montauk home: hands severed, surrounded by valuable inscribed books and original manuscripts that have been vandalized beyond repair. Adam's sister, Meghan, and her lover, Will-- a convicted if unrepentant literary forger-- struggle to come to terms with the seemingly incomprehensible murder. But when Will begins receiving threatening handwritten letters, seemingly penned by long-dead authors, but really from someone who knows secrets about Adam's death and Will's past, he understands his own life is also on the line--and attempts to forge a new beginning for himself and Meg. In The Forgers, Morrow reveals the passion that drives collectors to the razor-sharp edge of morality, brilliantly confronting the hubris and mortal danger of rewriting history with a fraudulent pen.
Erika Swyler's The Book of Speculation
**
Available in Large Print
**
Simon Watson, a young librarian on the verge of losing his job, lives alone on the Long Island Sound in his family home--a house, perched on the edge of a bluff, that is slowly crumbling toward the sea. His parents are long dead, his mother having drowned in the water his house overlooks. His younger sister, Enola, works for a traveling carnival reading tarot cards, and seldom calls. On a day in late June, Simon receives a mysterious package from an antiquarian bookseller. The book tells the story of Amos and Evangeline, doomed lovers who lived and worked in a traveling circus more than two hundred years ago. The paper crackles with age as Simon turns the yellowed pages filled with notes, sketches, and whimsical flourishes; and his best friend and fellow librarian, Alice, looks on in increasing alarm. Why does his grandmother's name, Verona Bonn, appear in this book? Why do so many women in his family drown on July 24? Could there possibly be some kind of curse on his family--and could Enola, who has suddenly turned up at home for the first time in six years, risk the same fate in just a few weeks? In order to save her--and perhaps himself--Simon must try urgently to decode his family history while moving on from the past. The Book of Speculation is Erika Swyler's gorgeous and moving debut, a wondrous novel about the power of books and family and magic.
Gabrielle Zevin's The Storied Life of A.J. Fikry
**
Available in Large Print
**
When his most prized possession, a rare collection of Poe poems, is stolen, bookstore owner A. J. Fikry begins isolating himself from his friends, family and associates before receiving a mysterious package that compels him to remake his life.